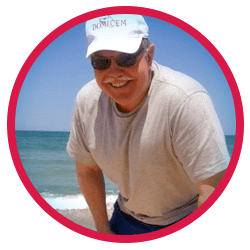 TrueBite, Inc. was founded by Ed Calafut of Vestal, New York in 1985. His research and development and entrepreneurial spirit began several years prior to the formation of his own company.
Formally educated as an Electrical Engineer, Ed spent 14 years working for IBM where he gained experience in manufacturing technologies, business management, purchasing, technical support, and program management. From coordinating a new product's development to managing all of the resources to take a product from concept to production, Ed became very proficient in the process and was ready for a new challenge.
When not working long days or traveling throughout the United States for IBM, Ed was working evenings and weekends slowly building the framework for Truebite, Inc. and developing the product line. What started out as a niche business to improve on concepts readily available, Ed's passion as an inventor soon took over and the company grew in many directions.
Ed remains active at Truebite, Inc. and attributes his success to doing the right thing at the right time. He believes that making his customers successful is the key to his success and that spending the extra time to help someone in need and provide them the coaching, resources and direction they may need to get over an obstacle in their way not only facilitates their growth, but is a satisfying part of his involvement with Truebite, Inc.
"Communication is key! If we are not involved and invested in our customer's success, then we are not close enough to provide them the support and direction they may need. Solving an issue before it becomes a problem is our goal…"