The Roll-n-Vac is a revolutionary pool service tool. The concept for the Roll-n-Vac® began as a way to save time and money while doing swimming pool construction and servicing. Thus, it is extremely fast at removing water. The remaining water after a pool is emptied can typically be 6-10 inches deep. It is also frequently thick with leaves, algae and debris. The Roll-n-Vac® can quickly remove this water and debris in pools 8-12 feet deep; saving time, money and risk of injury.
The Roll-n-Vac® makes sand filter changes fast and easy. A Revolutionary Pool Service Tool can empty a typical sand filtration unit in just 3 minutes (watch video). It also works great for vacuuming liners in place, blowing lines out for winterizing, cleaning clogged or blocked lines, removing soil and water from around buried pipes and fittings for easy service, removing water from winter covers and general site clean-up.
Tip: Use the Roll-n-Vac for Skimmer Line Repair

When digging out water lines, such as a pool skimmer, use the Roll-n-Vac® and a pressure washer to loosen dirt, then suck the debris up into the wheelbarrow. Using the Roll-n-Vac to this end will surely result in less chance of breaking a line. Additionally, the finished pipe will be better exposed making it easier to find a leak.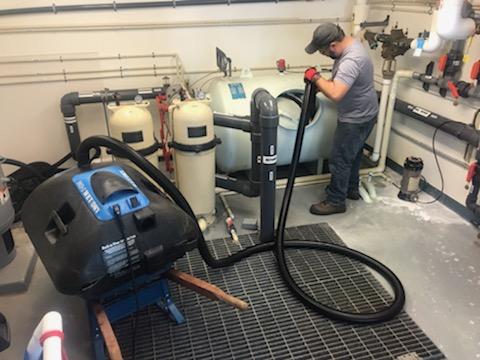 The Roll-n-Vac® Makes These Jobs Fast and Easy
Sand Filter Changes
Vacuuming Liners
Blowing Out Or Vacuuming Out Lines For Winterization
Cleaning Clogged Or Blocked Lines
Removing Soil & Water From Around Buried Pipes
General Site Clean-Up
Click here for more posts about Pool Service and Maintenance with the Roll-n-Vac.
No comments to show.